The rare Mosaic one patch hexagon doll quilt top measures 24″ x 34″. This Mosaic patchwork block is also known as Honeycomb and was a popular pattern in Colonial times. The pattern was described in Godey's Lady's Book in 1835.
The Mosaic doll quilt top was hand-stitched using hexagon-shaped paper templates. The paper templates were hand-basted onto the fabric patches so the paper was held in place. This technique uses a paper template as a guide for each cotton hexagon patch.
The Mosaic quilt design was popular in America in the early 1800s. Many times, the hexagon-shaped patchwork units were created by using paper templates. This Mosaic piece used this technique and the paper templates were constructed with recycled paper.
Looking closely, one can see the handwriting in sepia-colored fountain ink on most of the hexagon paper templates. Other paper pieces have come from a small print publication.
Each little hexagon measures only 1-inch across. The Mosaic designs were created by cutting 6 hexagon-shaped fabric motifs that were identical. Once cut, the hexagons were sewn together creating a kaleidoscopic design within each of the Mosaic patchwork units.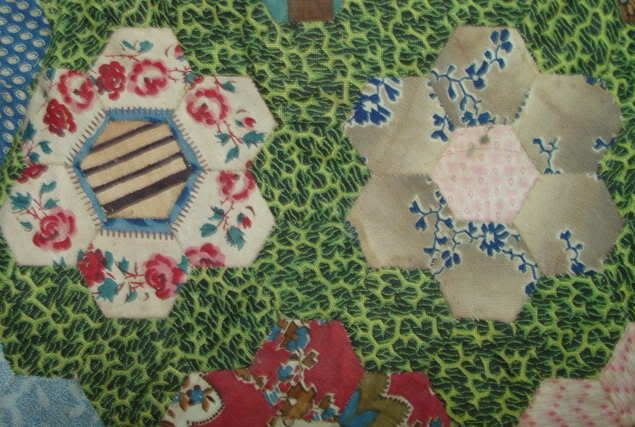 A number of the fabrics found in the Mosaic doll quilt top included ombre prints and multi-colored florals with stripes.  Many vermiculate patterns and prints on light grounds are also numerous, as are plaids and stripes. Tans with reds, many browns, blues, and pink floral prints are also found in this Mosaic. These fabrics are from the early 1800s through the 1850s.
This Mosaic Doll Quilt was made by one of the Jett women in old Frederick County, Virginia. The Jett family lived in the area for more than a century and their home and businesses were a large part of the local community. They owned a large general store and post office in the 1800s-1900s on Zion Church Road near my home.