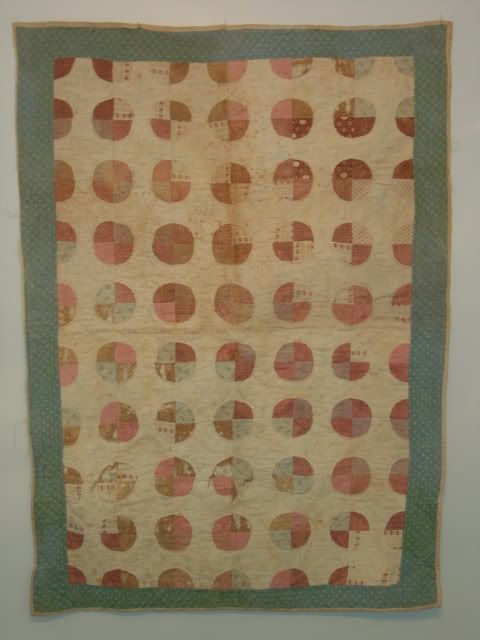 The Mill Wheel crib quilt measures 31″ x 43 1/2″ and has a 4″ two-piece patchwork block. This crib quilt was hand stitched and hand quilted using scraps for the curved wheel patches. The border measures 2 1/2″ wide on both sides, 2″ for the top border, and 1 7/8″ for the bottom border. The backing is pieced and is brought forward to form the binding around the quilt.
Fabrics found in the Mill Wheel crib quilt include several tan prints, brown prints, pinks, and a pink and white tiny stripe with sprigs. These fabrics are often found in fabrics from the 1830s-1850s era. The border fabric is an aqua printed with blue and yellow. This print dates to the 1830s-1860s.
The Mill Wheel patchwork block is an old pattern of unknown origin. The patchwork block was identified by Carrie Hall in The Romance of The Patchwork Quilt (page 84, No. 22). Unlike this Mill Wheel patchwork, the block is typically worked in 2 alternating colors showing a positive/negative effect.
The Mill Wheel crib quilt was made in the mid-1800s in old Frederick County, Virginia by Mrs. Jett. The Jett family lived nearby and operated a large general store and post office in Cedarville, Virginia.