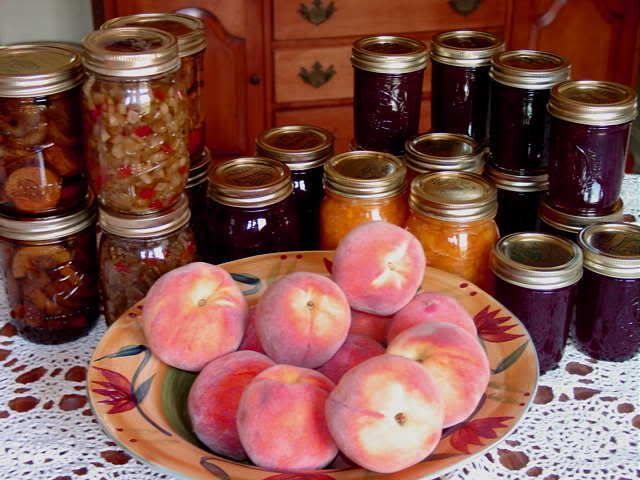 So far, the gardening year has been a bountiful one.  Our summer garden is providing plenty of vegetables for our table, for sharing, and for preserving. We are enjoying the fresh produce that we grow and appreciate the quick 'shopping trip' into our backyard. 
This year we are growing cucumbers, patty pan squash, a variety of herbs, acorn squash, green beans, a variety of tomatoes, and several types of green peppers.
In our vegetable garden, our large eating tomatoes are now starting to ripen.  We look forward to having several fresh tomatoes each day. Our Roma tomatoes are starting to color now, too. Soon there will be enough Romas for fresh tomato sauces, salsas, and canning our fruits of labor.
These July days are now occupied with gardening and with my canning chores. I enjoy preserving homegrown foods both for the quality and for the sheer enjoyment of cooking. I also appreciate having a full pantry of homegrown vegetables — these foods serve as a reminder that we should think more frugally and not be wasteful. And, admittedly, these canned goods literally equate to being the fruits of our labor. In today's world, with the current imported food problems now facing America, I am even more appreciative of the homegrown foods that we provide for ourselves.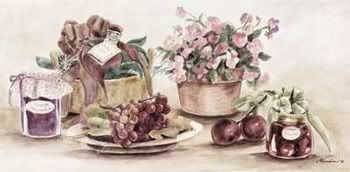 Sadly, the art of canning foods has become a forgotten skill in America. Having the ability to preserve homegrown or local fruits and vegetables, though, can be a bounty for those who enjoy cooking. Relishes, jellies, jams, pickles, sauces, and plain vegetables & fruits can be made with relative ease — at least for those who understand the processes involved. Some recipes are indisputably better than anything found in stores, too, and these are the fruits of labor that become a gourmet delight.
This year's plum trees were overloaded and I was able to make enough plum preserves for our winter enjoyment. Now that the plums have finished, the peaches are in season. Our one productive standard peach tree was cut down several years ago, so we now get peaches from a local orchard.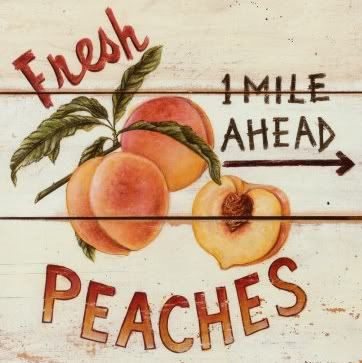 Sunday, we drove over to Moore's Orchard, near Flint Hill, and bought a bushel of juicy peaches so that I could make peach preserves, peach syrup, and peach pie. Today I will slice peaches to freeze so that we can enjoy them later in the year. There is nothing quite as intoxicating as the perfumery of fresh peaches, and that sweet, fruity aroma will surround me again today, making the task all the more pleasant.
There is true meaning behind the phrase fruits of labor, and no matter how difficult the task becomes, the end result can be very satisfying.
Little Bouquets quilt
In between the gardening chores and canning, I am still busy quilting the Little Bouquets quilt. There are two more squares to hand-quilt, then I will be ready to quilt small clamshells around the border. I'm still enjoying this small quilt and appreciate how easy the feedsack fabric is to needle.
I am looking forward to adding a few buttons and beads when the quilting is finished. A few of these flowers need a bit of sparkle from beads. And Sunbonnet Sue needs some chicken feed for those baby chicks!