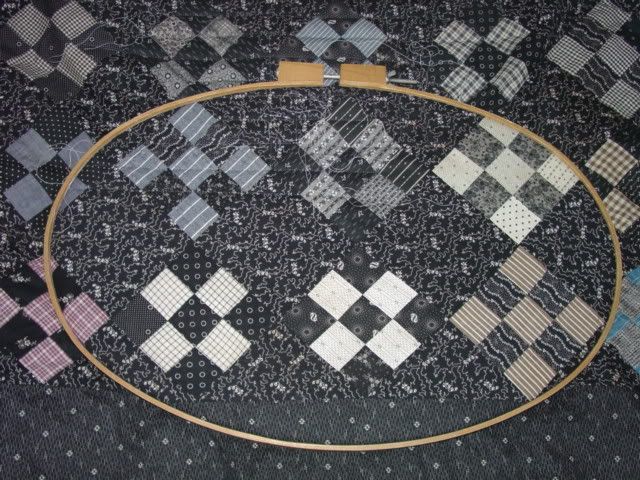 When I am hand quilting, I use some type of a frame or hoop. Generally, I use one of my wooden quilt hoops because they are portable and easier for me than my floor frame. Quilt hoops were designed to hold the quilt's sandwiched layers together between the inner and outer hoops. 
With hand quilting, the border of a quilt can become a problem area to work with because the quilt's sandwiched layers don't provide the quilt hoop with fabric layers to grasp.
When the time finally comes to hand quilt the border of a quilt, the typical quilt hoop can't be used.  So what's a hand quilter to do when quilting the border?
Many quilters have tried to stretch the sandwiched quilt border in a quilt hoop but quilting causes the sandwiched quilt to become very loose. So loose, in fact, that this method proves to be more like lap quilting, or quilting without a hoop. Finishing a quilt by lap quilting will usually result in a different tension and stitch length. Many years ago I tried this method and the finished quilt looked 'puffy' at the border area — I ripped out my quilting stitches and had to think through the problem I was facing.
I am a self-taught quilter and there were very few how-to books available when I began quilting 30 years ago. Back then, I eventually realized that if I basted additional fabric to the edges of the border, I could continue hand quilting into the border areas with my wooden quilt hoop. In this photo on the right, you can see the pinkish fabric strips that have been attached to the sawtooth border enabling me to hand quilt those small triangles easily.
Basting fabric strips on the 4 edges of a quilt is essentially the same process quilters use when preparing a quilt to be quilted on a large floor frame, though on a smaller scale.
Another hand quilting technique that I have learned involves the use of a different kind of quilting hoop: the half hoop. Using a half hoop is easy and just as portable as any other small quilt hoop. With a half hoop, a durable strip of fabric is attached across the diameter of the half circle's arc. The strip of fabric is used as a pinning base for the sandwiched quilt border area. Once pinned, the outer half hoop is brought down to close the contained quilt border within the half hoop, holding the quilt sandwich taut for hand quilting. My wooden half hoop does not have a wing-nut to adjust the tension on my quilt sandwich, but so far this has not been a problem.
There are half hoops on the market and there are also half hoop adapters that are currently available. These adapters provide an attachment to create a half hoop within the full hoop — a very clever idea.
When I am hand quilting a border, I have 2 choices that work very well:
1. Use cotton remnant or muslin strips basted to each border so that the border fabric is extended for the quilting hoop (these strips can be removed and used over and over again)
2. Use a half-hoop (or hoop adapter to create a half-hoop) designed for hand quilting borders
My latest project is a small quilt, Little Bouquets, shown in the photo on the right. This quilt is now ready for some border quilting. Long straight pins are only slightly visible in this photo to the right. The pins are attached along the edge of the border and they're holding the quilt sandwich to the half hoop's fabric strip. Time to quilt!