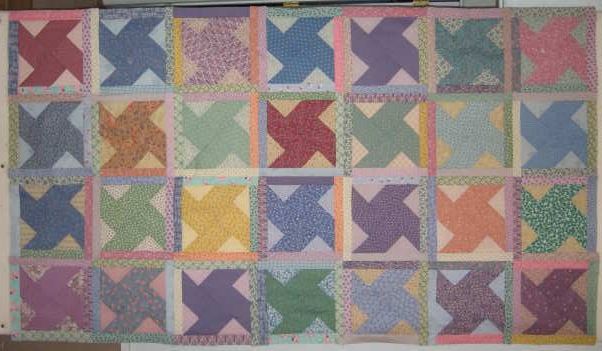 Time for a pinwheel party!! All of the pastel pinwheel blocks have all been stitched into a quilt top. Without a border, this top measures 50″ x 85″, a good size for a twin bed. 
The scrappy fabrics used to make this top were from leftover projects or from my fabric stash. This top was one of my UFOs — I had made the blocks during the 1990s then jumped into something else. When I did that, I put the blocks and leftover fabrics into a plastic tub in my studio. I am pleased that this UFO is now a quilt top and the plastic tub has moved on and out of my studio.
Originally there were 32 patchwork blocks but this quilt top was made with 28 blocks. The remaining 4 blocks will be used in the backing. For this quilt, the backing will be pieced together, using more of the remainder stash that was used in these patchwork blocks. What a fun project this has been, especially because I adopted the Just As Free As The Pieces Come random stitching for the block sashings.
Admittedly, this is a good project for scraps, frugality, and for the stashbuster mindset. Adding the strip borders around each block not only used more stash but the pieced 'look' added more of a scrap-quality to this top, I think. Sewing such a variety of pastel cottons made this such an enjoyable quilt top to finish up. Now I'm looking forward to adding the pieced border so that this top will be finished.