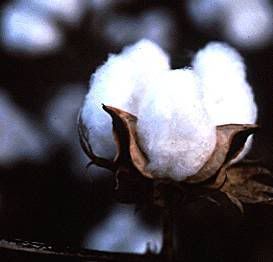 Cotton, the plant called Gossypium. The cotton plant grown in America is one of two varieties: Gossypium barbadense (Sea Island cotton) and Gossypium hirsutum (Upland cotton). The Sea Island cotton, desirable for long staple fibers, could only be grown in coastal Georgia and South Carolina where it was very humid and hot. The Upland cotton, which has short fibers (and lint), makes up about 90% of our cotton today, can be grown in a variety of environments.
Cotton fields. Cotton had been a crop in America's warmer states but until the cotton picking machine and the cotton gin were invented, a cotton crop involved a great deal of manual labor. Cotton was grown for home use or factory needs, so cotton was produced on small farms as well as on large plantations.
Growing cotton was hard on soil and cotton crops destroyed the land. Cotton is a very heavy feeder crop, so after years of growing cotton, erosion and nutrient depletion were commonplace on the farmlands. Some farms were abandoned and others were left idle.
Once cotton was planted, the fields needed to be hoed to keep weeds to a minimum.
When cotton was ready for picking, the cotton boll (the ball of cotton) had to be plucked out of the hard outer hull. Before the invention of the picking machine, this had to be done by hand.
After the cotton was picked, it was transported to the cotton gin where seeds would be removed. Once clean, the cotton would be hauled to some type of a warehouse where it was weighed before shipping out to a cotton mill.
Cotton Mills. Water-powered machinery was invented in the 1790s which enabled carded cotton to be produced faster than manual labor could achieve. The power loom was invented in the early 1800s and with it came more demand for cotton and more textile mills. Before the Civil War, the textile industry was the most important industry in America.
Many cotton mills were located near the cotton farms so they could be close to the raw cotton material. By the 1920s, the South had outproduced the New England region in textile production. With mills being so close to the cotton crops and families desperate for jobs, cotton could be produced more cheaply in the Southern states of Georgia and the Carolinas. With conditions so bad in the South, it was not uncommon for entire families to work at a cotton mill.
Fannie Miles, from Columbia, South Carolina, recalled working at the cotton mill when she was just a child:
"I was just nine years old when we moved to a cotton mill in Darlington, South Carolina, and I started to work in the mill. I was in a world of strangers. I didn't know a soul. The first morning I was to start work, I remember coming downstairs feelin' strange and lonesome-like… I worked three weeks learning to weave, and then they paid me twenty-five cents a day. That was big money to me. Course, when I learned to weave good, I got twenty-five dollars a week."
Weaving required skill and the only way to obtain the skill was through on-the-job training as an apprentice. Learning to weave was for a select few mill workers, and the apprenticeship was without pay.
Wesley Renn, whose family was interviewed in the WPA Project during July 1938, lived in a mill village in West Durham, North Carolina. The interviewer wrote: For three months before taking a job in the cotton mill Wesley Renn operated his landlord's cotton gin at eleven dollars a month. 
With money from his job as gin operator still in his pockets, Wesley Renn was enabled to make a choice of the kind of mill work he wished to do. Instead of immediately taking a low wage job, he entered the weave room and worked there for four weeks learning his trade without receiving any pay. During the next four weeks he ran two looms at sixty cents a day. He increased his capacity to four looms for which he received one dollar and twenty cents a day. He continued in the weave room until 1902 when it closed down. Wesley was then transferred to another department of the mill, but his work-load there was so heavy he found it impossible to keep up.
In the photo below, this man is weaving cotton fabric at a loom in a mill in Greensboro, Georgia. 
This photo shows another man weaving cotton fabric at the Greensboro Mill.
Here, you can see how the looms were placed in a weaving room.
Cotton and Slavery. Although cotton has been grown as a crop in America for more than 200 years, it was during the middle of the 1790s when cotton production required more manual labor than farms and plantations had. The increase of the slavery trade can be directly correlated with the increase in cotton production and the American economy. By the 1850s, nearly 75% of all slaves were involved in cotton production.
This photo shows plantation slaves in a field as they plowed and tended to a field of cotton. Two white overseers are in front of several rows of workers.
Essentially, the only thing that regulated cotton production was the availability of manual labor. This comes as no surprise because we associate our past history of cotton with plantation crops and the exploitation of slave labor. King Cotton, The Fiber Of Slavery, a very well researched article is available for those who want to learn more about cotton and American slavery.
Sources: 
A House Divided: America in the Age of Lincoln. Chicago Historical Society online exhibition with numerous images of cotton slavery:
http://www.digitalhistory.uh.edu/ahd/slavery2.html
King Cotton, The Fiber Of Slavery by Jean West, Slavery In America http://www.slaveryinamerica.org/history/hs_es_cotton.htm
Library of Congress, Manuscript Division, WPA Federal Writers' Project Collection.