Making pot holders is a perfect little machine-quilted project and even though the project isn't demanding, making pot holders is a nifty project to do — they're easy to make and quick to finish. I've been making pot holders most of my life, so I admit that I might be a little biased about making pot holders.  My first pot holders were made when I was 7 years old. They were woven (remember those woven pot holders?) and made with colorful fabric strips woven on a small metal loom designed for a child's craft. I'll never forget those pot holders — they were my first textile craft. 
Recently I made a bunch of pot holders, including some Crazy Cat pot holders for my daughter-in-law. Making these were so fun — I loved the bright colors. And who could avoid smiling at those crazy cats? They kept staring at me !!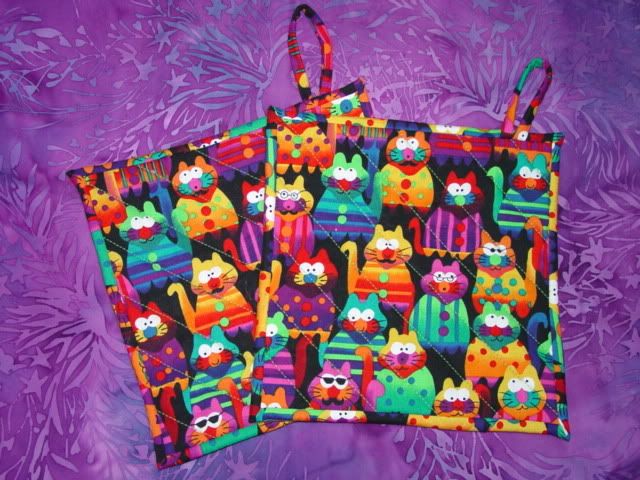 Making simple pot holders is a frugal way to enjoy sewing while making something that's functional. Make the pot holders with your stash, and if you have a theme fabric (or some wild looking fat quarters), this is the perfect little project to have fun going domestic! You can also make pot holders with leftover patchwork blocks or scrap fabrics. Use imagination and what you have on hand…and have some fun with this project.
These pot holders are about 8″ square, have a hanging loop, and are finished with applied bindings. If you need to practice mitering your binding corners, this is a good project to practice with!
The inner padding of the pot holder is made with terrycloth, so get one of your aging towels for this project. I had two purple bath towels that served their main purpose years ago, so they were cut for this project.
Here are the simple directions:
Square pot holders measure between 7″ – 9″.  For these directions, I'll use an 8″ square, but the size can be increased or decreased, depending on the size you need.
For each potholder:
Cut two 8″ squares of cotton fabric – 1 front and 1 back. Use 100% cotton fabric, nothing synthetic. These are pot holders!
Cut one 8″ square of terrycloth as the inner insulating pad.
Determine how the pot holder will be machine quilted. For these pot holders, I marked a 1-inch diagonal grid starting in the middle, from the top left corner to the bottom right corner. Mark quilting lines. 
Assemble the pot holder, placing the terrycloth square in the center. Make sure the front and back of the potholder are right-side-out.  Following the quilting lines, begin machine quilting. (Doncha love those crazy cats?!!)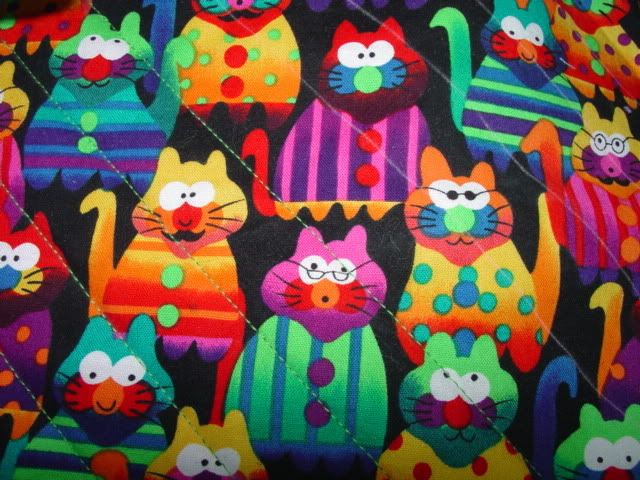 To sew more efficiently, I stitched along the pot holder edge as I finished one diagonal line and was ready to begin stitching another. See the below photograph. 
After the pot holder has been machine quilted, it's time to finish the raw edges. Trim off any excess, while trying to keep the potholder square. (Wonky works, but squaring up makes good practice!) 
Before the binding is stitched onto the pot holder, make a hanging loop for the pot holder. Cut a 1 1/4″ x 6″ strip of matching fabric or coordinating fabric. Lay strip on ironing cloth with wrong side up, then turn both long edges inward 1/4″ to butt into each other. Press edges.
Once the edges of the loop are pressed in 1/4″, fold in half with the folded edges meeting along the edge. Press. Pin in place and stitch edges together. I hand stitched mine, but the loop strip can be closed with machine stitching.
Fold the hanging loop in half. Pin the ends of the loop along the top-right edge of the front of the pot holder, about an inch from the corner.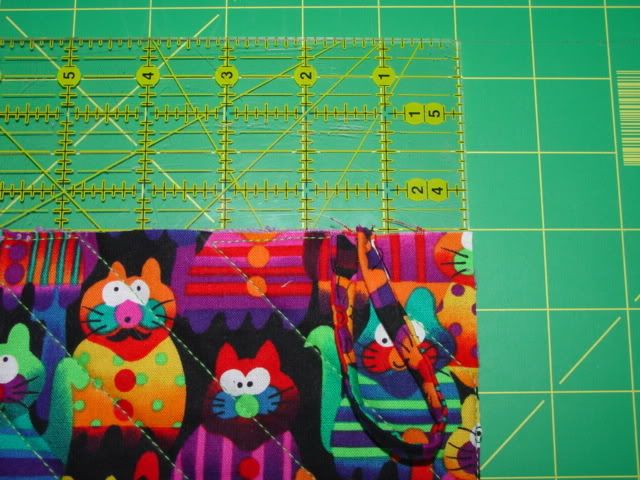 Make binding (either straight grain binding or bias binding) with a strip of matching or coordinating cotton fabric. Cut one strip 1 1/2″ x 35″ (make longer if pot holder is larger than 8″).
Time to add the binding. I stitched my binding in 1/4″. Don't forget to miter the edges!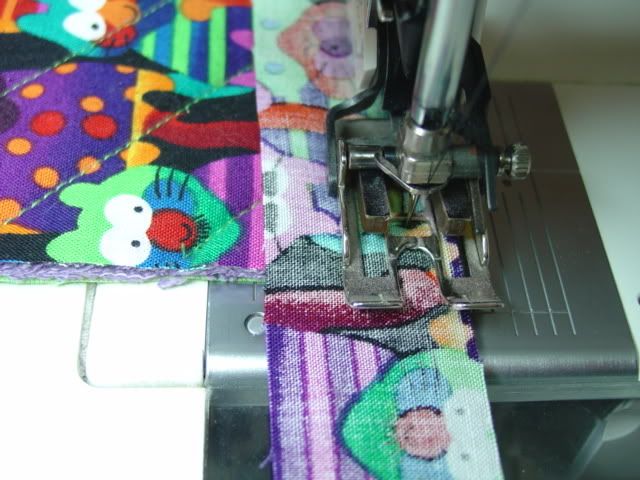 Once the binding has been stitched to the potholder, it's time to finish the binding.
Finish stitching the binding just as you would bind a wallhanging or quilt. Turn the binding to the back of the pot holder and pin in place. Hand or machine stitch the binding to the back of the pot holder. Oh, and be sure to miter those edges of your binding!
These kitchen items make super gifts without a great deal of effort. I make them to add into a food basket — they add color and can even dictate a food basket theme. Happy sewing — and don't forget to have fun!