Remember rickrack? Many of us can recall seeing rickrack trim in the home sewing basket. Some of us even used rickrack as a decorative embellishment on a dress or apron.
Rickrack was originally created during the Victorian era as a decorative trim. The first rickrack trims were crocheted using a wave design. Through the years, rickrack evolved from crochet to a cotton or rayon braided trim.
Most of the items using rickrack trim are dated from the vintage era. times, however. Studying old patterns or sewing instructions, the use of rickrack can be found as a decorative trim in a number of handmade items. I chuckled at the vintage Laura Wheeler jewelry pattern in my collection. I don't believe I would have ever thought of using rickrack as jewelry. And I seriously don't believe I would have thought of using rhinestones with rickrack. (I must not be vintage yet!)
This Laura Wheeler pattern (R728) provides instructions to create flower jewelry from rickrack. From a vintage Laura Wheeler catalogue:
It's easy as pie to make flower jewelry from thrifty RICKRACK! So pretty, you'll want a matched set of earrings, necklace, pins! Your friends will want them, too. Use rhinestones, pearls in centers.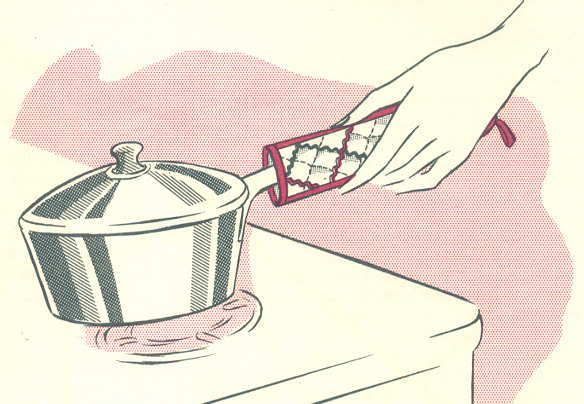 The Laura Wheeler "Handy Potholder" pattern suggests the use of rickrack to create fabric with a plaid look.
If you have some rickrack or want to try making this vintage-era potholder without the rickrack trim, check out the free "Handy Potholder" pattern instructions I posted. (And if you decide to try making some of that vintage jewelry with rickrack and rhinestones, please let me know!)