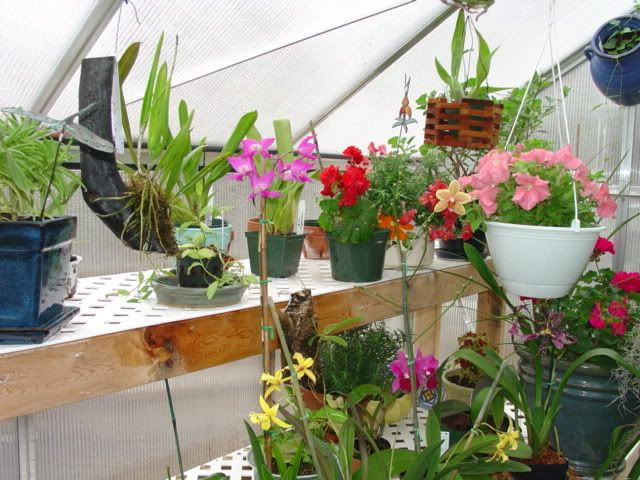 I have been suffering with the typical dead of winter color deprivation syndrome. Predictably, each February, I begin to crave color, so I start to desperately seek springtime.
In my greenhouse, color abounds! Orchids, overwintered annuals, and other flowers are in bloom. Seeds are now seedlings and they are being nurtured. Robins have been on the property for almost a month and everything is signalling that spring is almost here. But it snowed yesterday and our outdoor temperature is in the teens. With cold weather like this, it's amazing that the snowdrops, crocus, and pansies are blooming. I know that Spring is not far away, but I am impatient. So this week, I'm on a mission to create a little springtime in my studio!  
Feedsacks, some vintage era fabric swatch samples, and reproduction fabrics have been chosen to carry out my mission.
I am inspired by many of the vintage era quilts with lovely pastels. Those light, airy colors remind me of Spring. Vintage, it is!
With a pile of fabrics from my vintage stash and a purple print feedsack in perfect, uncut condition, I had gathered my springtime vintage era fabric palette.  Next, I wondered how I might use the fabrics to create a bit of springtime.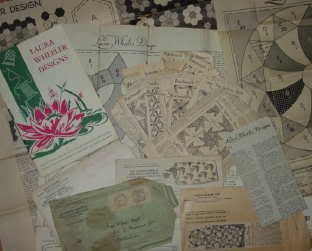 Following with the vintage mood, I looked through my collection of Laura Wheeler patterns. I saw butterflies! Vintage butterflies sounded charming, so I pulled the Laura Wheeler Butterfly Design 515 from the collection. It was a perfect springtime block of simple butterflies!
I photocopied the original and modified both the pattern and layout for my butterfly applique quilt. What I think I have now are renegede butterflies…
The original pattern suggested that it be made "entirely of applique blocks in two materials. The same materials may be used throughout, or different materials may be used in each block." I thought that a quilt composed of the same identical fabrics would be much too boring, plus I had a stack of springtime fabrics to use. I opted to create a scrappy-looking vintage reproduction with this pattern.
Directions for the applique block suggest, "Stitch down the patches with outline stitch. Trace and embroider feelers, the lines in butterfly in outline stitch. Embroider body in satin stitch. Use six strand cotton (using three threads in the needle) for embroidery."
I didn't do that either… My butterfly patches are stitched down with the buttonhole stitch. After all, the buttonhole stitch is SO vintage….
Contrary to the Laura Wheeler pattern directions, I plan to add appliqued butterfly bodies rather than 1/2″ wide satin stitches which would be much too wide or practical.
Before stitching, I made a traced copy of the block so that I had a placement guide for the applique. For each butterfly, there are 4 separate wing sections, plus the butterfly body. The original pattern is stitched with blocks set diagonally and without any sashing. My butterfly blocks will be made with a straight set using some type of sashing.
So not following the original directions or pattern or layout, I'm making a dozen renegede butterflies for a dozen small 8-inch" blocks. These renegede butterflies will make a small quilt. A fun quilt. A quilt of little renegede butterflies trying to fly through the dead of winter into Spring.