Children and Art Quilts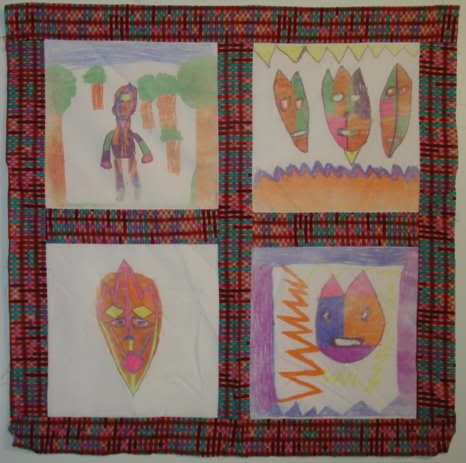 Children are wonderfully creative, and their ability to freely express themselves through art can be easily channeled in the fiber arts. One way for children to enjoy and experiment with fabric is through the use of fabric crayons.
Years ago, when I taught children's fiber arts classes, one class involved the use of fabric crayons.
Crayon Quilts
Designs are drawn with fabric crayons directly onto paper, then colored in. When the design is finished, it is transferred onto fabric with a heated iron (adults need to do the ironing). The transfer process will result in a reverse image on the fabric. Keep this in mind when the children are creating their pictures. Likewise, if lettering is used, the characters would need to be drawn backwards. The image will be reversed through the iron-transfer process.
To make a small crayon art quilt, use special fabric crayons, not regular crayons, because the colors will be permanent and more saturated. Full instructions come with the set of crayons so be sure to follow the directions for the crayons selected for use. Many of the crayons require that the base fabric be a cotton that is blended with a synthetic, or use a fabric that is 100% synthetic fabric. Since the crayon transfer process is essentially a dye-dispersion technique that is absorbed by the fabric's fibers, using 100% cotton will result in dull, unsaturated colors that will fade with time.
Two of my own sons, who acted as "test pilots" for the course, made several small art quilts. My son, Ryan, decided to make a series of masks but he never completed his quilt. We finished a 4-square quilt top, though, and it's something I want to finish for him this year. I know that he has completely forgotten about his small art piece, but when he receives the finished wallhanging, he'll remember.
Jordan, my third and youngest son, made one design called "The Man". Another of his art pieces was titled, "My House and The M&M Tree".
I love his imagination and whimsey. When I told him that I'd never heard of an M&M tree, he smiled and said, "I know there isn't an M&M tree. But wouldn't it be nice if there was?"
I recalled this moment in our past when I plucked his two small art quilts from one of the storage containers recently.
Those little art quilts are now in Jordan's own home. How quickly they grow and move on to their own lives…
Reference: 
Flavor Quilts by Jennifer Amor
Imagery On Fabric by Jean Ray Laury