Hand Dyes: Creating Color
Leaning against a corner in my sewing room, lies a plastic-wrapped, unopened roll of white cotton fabric. This roll holds 250-yards of unmercerized cotton. Another roll of this fabric is on the other side of my sewing room, propped up against a row of fabric shelving. That roll is opened, though, with only 40 yards or so remaining.  With so much white fabric, it would certainly appear that I sew with white fabric. The truth is, the only white cotton fabric that I own is in these rolls. I don't use white cotton — unless I use it for hand dyes.
An Impressionistic Statement on Fabric

Most of my hand dyeing involves a great deal of fabric manipulation. Many times, the hand dyeing process involves overdyeing, resist, or tie-dyeing. Truthfully, hand dyeing cloth is a messy ordeal….but the final results are worth the mess and the time involved.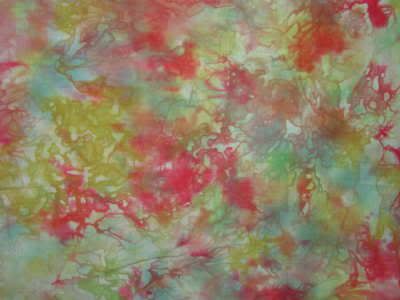 With every piece of hand dyed fabric, color is created within the cotton fibers where the chemical dyes are absorbed.

By manipulating fabric through folds, crunches, resists, or gathers, the dyes create color variegations within the cotton fabrics. Oftentimes, a hand dyed piece of cloth provides its own impressionistic statement.
A few resist dyed fabric examples include violet scrunched and indigo dyed shibori wrap: