Laura Wheeler Patterns
A number of vintage Laura Wheeler ads and patterns were given to me. The advertisement blurbs are a delight to read. 
Old-Fashioned Nosegay Pattern No. 486 
The Old-Fashioned Nosegay is one of those patterns that needs no explanation. Its quaint charm — its colorfulness — would make it outstanding in any collection of quilts. The very fact that it is made of scraps of material enhances its beauty for was not the old-time nosegay that inspired it formed of all the varieties of flowers that the old-fashioned garden boasted of? It can be made with the same scraps, repeated in each block as illustrated, or with each block made of different scraps like so many different bouquets.
Ann's Scrap Quilt Pattern No. 600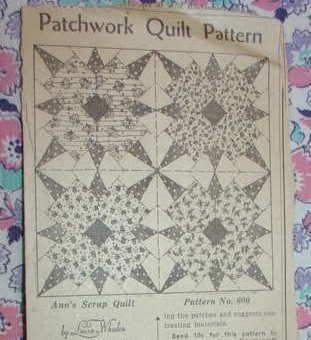 When a quiltmaker chooses a pattern, she wants more than an economical and easy-to-make quilt. It must be attractive as well and one which she will always be proud to possess.
Ann's Scrap Quilt is just such a quilt. Economical, in that leftover pieces of material form the flower — it is best to use the same scraps in one block. Simple in that the patches grouping themselves into squares and triangles are easy to join. The illustration shows how lovely a design it is, thus fulfilling all the needlewoman's requirements.