Laura Wheeler's "Novelty Change Purse"
How To Make A Novelty Change-Purse
YOU NEED: 1/4 yard leather or heavy felt; matching sewing thread. (If purse is leather, piece of thin cardboard is necessary.) Scrap of contrast for heart, sequins for arrow.
TO CUT PURSE: Cut six squares and one heart from pattern piece given. For leather purse, cut a square of cardboard 1/4-inch smaller than pattern.
TO MAKE: If purse is made of felt, baste two squares together for bottom. If made of leather, place cardboard between two squares and glue together. Tack or glue heart to bottom. Tack sequins in place.
Fold each of four remaining squares in half diagonally, right sides together. Press on the crease. Stitching an 1/8-inch seam on outside, join squares to double bottom square with beginning of crease in lower right corner. After all four have been joined to bottom, join each from corner to top edges.
~~~~~~~~~~~~~~~~~~~~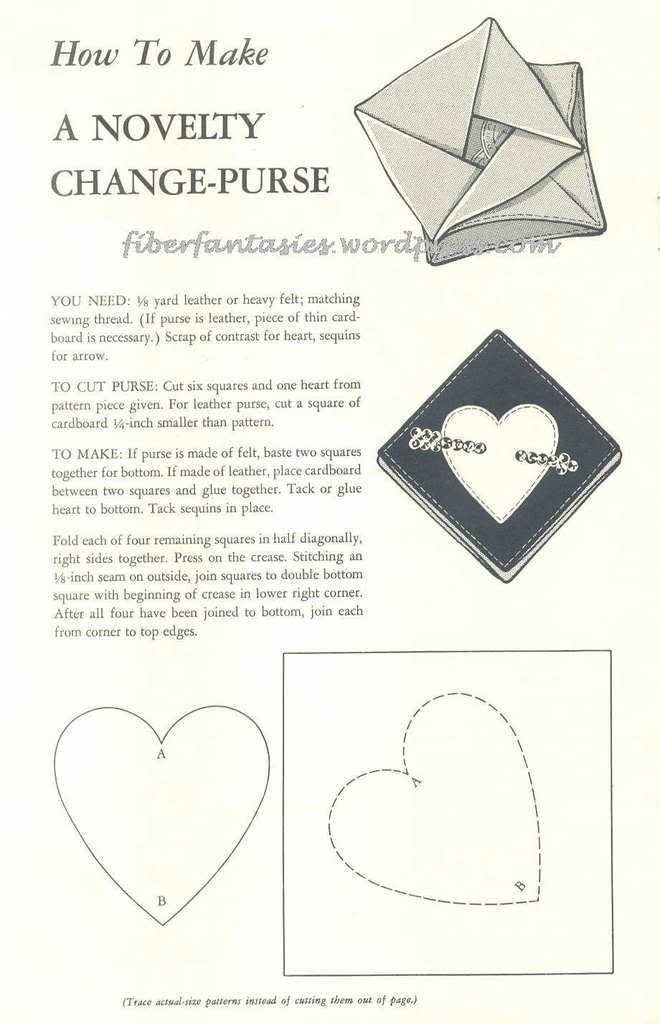 To draft the change-purse square, measure a 3-inch x 3-inch square. The heart should be placed on the diagonal, as is depicted in the pattern shown above. Placement can be achieved by aligning the midpoint of the drafted heart with the center of the 3-inch square. The heart is 2-inches across the widest area.