Nancy Page: "Falling Leaves"
Found within the vintage newspaper ads and patterns I own were clippings from the Nancy Page Quilt Club. The Nancy Page Quilt Club published a syndicated weekly 2-column quilt pattern in the 1930s. The column was written by Florence LaGanke.
Falling Leaves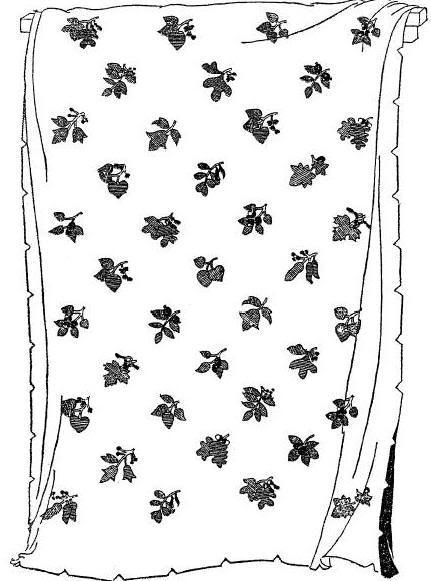 Here we are with our new quilt.  I'll tell you what we call it before I show the picture.  I named it "Falling Leaves."  Across the entire top are drifting leaves or sprays of leaves sometimes with their fruit which may be seedpod or nuts.  Think how nice this quilt would look in that bedroom that has an old orchard in the distance or the one with the big maple tree just outside on the front lawn.
She told them there were 18 different trees represented in this quilt.  These leafy clusters are appliquéd, each on its 8-inch block and pieced together to make the center of the quilt.  This gives a panel 40 inches by 56 inches. Then the leaves repeated themselves over the rest of the quilt.  There is no special border with appliquéd vines or leafy clusters.  Instead there is an eight-inch strip of plain material at the bottom, top and sides.  This strip is left straight except for the small pointed indentions cut into it at eight-inch intervals.
1) Redbud
2) Yellow Locust
3) Sweet Gum
4) Tulip Tree
5) Hickory
6) Papaw
7) Cottonwood
8)Wild Cherry
9) Black Walnut
10) White Oak
11) Maple
12) Black Birch
13) Sassafras
14) White Elm
15) Mountain Ash
16) Tupelo
17) White Oak
18) Witch Hazel