Nancy Page: "Quilt Of Many Stars"
Found within the vintage newspaper ads and patterns I own were clippings from the Nancy Page Quilt Club. The Nancy Page Quilt Club published a syndicated weekly 2-column quilt pattern in the 1930s. The column was written by Florence LaGanke.
Quilt Of Many Stars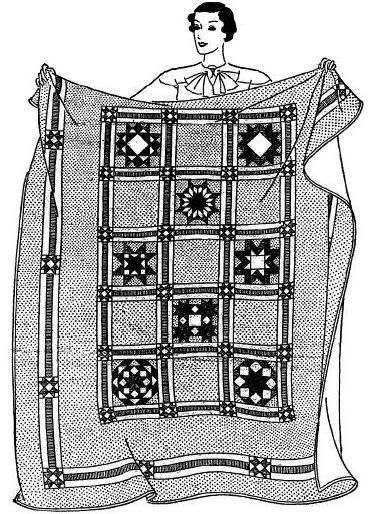 I am using two shades of blue for the star. One is the dark blue and the other is more faded blue and white. The connecting sashing is made of white and the lighter shade of blue. The half-inch binding is of the dark blue. The small stars in the squares of the sashing are pieced in the lighter blue material. There is no reason why you need to follow this color scheme, of course, but the design seems so old fashion that it called for that coloring, in my estimation.
The pieced top (middle portion opposite) measures 39 by 63 inches when finished. After it is pieced and before it has been joined to the border it will measure 39 ½ by 63 ½. Those half inches are lost in the quarter inch seams that are taken on all sides.
The finished size (above) can be altered easily by altering your border sizes and as pictured is 72 inches wide and 96 inches long.
Patterns:
Square and Star
Star of Many Points
Blazing Star
Stars and Squares
Morning Star
Four Stars
Star and Chains
Rolling Star
Joining Star/Border Star
Just because we have chosen eight stars does not mean you need to use those eight. You many choose some that are not given at all if you are sure that the pattern when pieced makes a nine-inch square. That is the size of all of our blocks when pieced and seamed in. Actually the size is nine and one-half inches but the half inch is lost in the seams, one quarter inch on each side, or one half inch in the width and another half-inch in the length of the square.