UFOs: Finished Up Or Nearly There
UFOs…..I have been calling some of them UnFinished Ordinaries. UFOs are, admittedly, boring and that's how some of them became UFOs. Some of the UFOs were quilt projects worthy of procrastination.
But I made a commitment to myself and to my pile of UFOs in 2006. I decided to finish some of my very old UFOs. My UFO pile was much too large and no one in my family would take on the undaunting task of finishing the enormous task when I am long gone. Besides, I had 3 sons and even though I was able to con them into making some quilts when they were young, they've grown into men and now they realize that I'll make quilts for them and they don't have to lift a needle.
Even though many of my UFO pieces are very traditional, I decided to stick with a personal commitment to finish them. I am still working on the UFOs, but I am happy to say that I have definately made a dent!
In 2006, I finished 3 large UFOs, including 2 scrappy quilts: the Lady of the Lake quilt and the queen size Log Cabin in the Barn Raising setting. One of the UFOs became a Christmas gift for my oldest son.
In 2007-2008, here's my finished list:
Split Rail Fence queen size quilt – finished and given away
One Patch full size quilt – 1940s quilt made by my grandmother was removed from duvet cover, squared up, new binding added (completely restored), label added to identify my grandmother's original two-sided one patch quilt — restoration finished
Road To Oklahoma — queen size quilt finished
Harvest Sampler quilt top — assembled by combining 4 different patchwork projects — a TRUE sampler!! This project is still in the works and not finished
Springtime On Bloomery Mountain quilt made from previously cut HSTs destined for a different project — finished
Kyoto Kimonos — lap quilt top quilted on my longarm; finished
Pastel Pinwheels — large quilt made from an assortment of Twin Sisters patchwork blocks; now finished
Black Mourning Quilt – antique Nine Patch blocks stitched into a quilt using only antique fabrics from the same area; hand stitched top completed, then hand quilted and finished
Cross Stitch Sampler — finished and framed
~~~ Blurbs About Some Of The Completed UFOs ~~~
The Mojo quilt is finished now. This was an old UFO that I had been machine quilting off and on. Many of the colorful fabrics used in this quilt are from project leftovers and scraps that belonged to my mother. Some of these cottons are from the 60s and 70s and it was a real kick to use them.
This photo shows the quilt in progress, although it was finished in August 2006.
My mother has been a strong influence with my love of sewing and, depending on my outlook, I can either blame her or praise her….I think it was in 1990 when my mother decided that she no longer wanted to sew or make quilts. She gave me her remaining cotton fabrics and her scrappy leftovers. Imagine the gift of another quilter's fabric stash! It was a good day, and it brought good mojo to my quilting.
Mojo was made using the Turkey Tracks patchwork block. The block appears somewhat tilted because of the asymmetrical twist with the elongated triangles. I thought it fitting to use very bright colors for this quilt top. Mojo was created to celebrate the gift of my mother's fabric stash and using the Turkey Tracks pattern, 12 patchwork blocks were made with the fabric merger of our cotton fabric scraps and leftovers.
Good mojo made quiltmaking an important facet of my life. Everyone needs some good mojo, and I will be reminded of this each time I look at the Mojo quilt!
~~~~~~~~~~~~~~~
In July 2006, I finished sewing this full-size Lady Of The Lake quilt top. Most of this top was stitched about 20 years ago, but it was put into a pile of UFO projects and forgotten. It was satisfying to finish this quilt top because it furthered my commitment on those UFOs. To speed this along, Lady Of The Lake was professionally machine-quilted so that this quilt top could become a gift quilt for my son and daughter-in-law.
This quilt was finished and returned in October. Lady Of The Lake was quilted with a meandering stitch and turned out so well! This quilt was given away to my oldest son during our 2006 family Christmas gathering.
~~~~~~~~~~~~~~~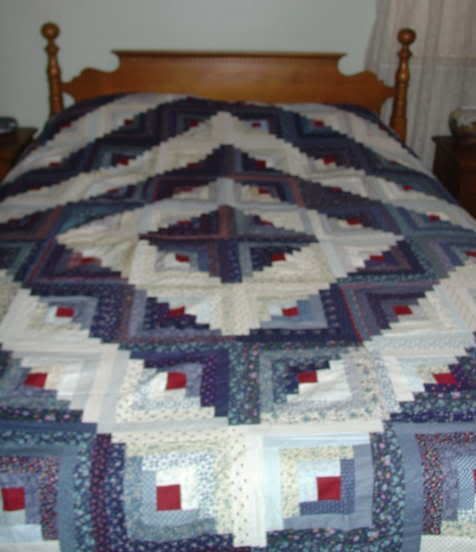 The queen-size Log Cabin quilt top was made when I was pregnant with my 2nd son, Ryan. The year was 1984 and I was on maternity leave. What better way to grow your baby than spending time doing patchwork for a quilt?
The Log Cabin quilt, a UFO for 22 years, is now finished. We have used this quilt on our bed and now it is folded in our guest bedroom.
~~~~~~~~~~~~~~~
Pulling together several UFOs has provided me with this work-in-progress I call Harvest of Patchwork. This top is destined to be queen-size for our bed and it is truly a harvest of my patchwork. The top is made from 4 UFO projects stitched into one.
Ten 12-inch sampler blocks had previously been hand-pieced in 1989, but the sampler quilt project was never completed.
Now, this group of sampler blocks has been adapted for this project. Nine of the sampler blocks are stitched in a 3 x 3 set, using a 3-inch sashing strip and black setting posts.
Four long strips of pieced Flying Geese from my UFO pile were added to the perimeter around the sampler blocks. Each strip measures 2.75″ wide, finished.
Next, I found 16 leaf blocks, another UFO, and they were used to create the pieced border, now being stitched with scrappy one patch squares to fill in.
The final border (not yet added) comes from another UFO, hand-pieced Snowflake blocks that I had been working on during the Christmas seasons over the years. Those blocks will be the outermost border for this quilt top.
When this quilt top is finished, it will have been made with 4 UFOs. This project will be called Harvest of Patchwork.
Sometimes the name just fits…..
~~~~~~~~~~~~~~~
While I was finishing up this Split Rail Fence quilt, I remind myself that this UFO quilt should have been completed a long time ago, and not stored away to finish "later".
Later, yeah. "Later" was 20 years ago! I can't believe that it took me 20 years to push myself to finishing up this quilt. There was only a corner of the quilt that remained to be quilted. I am sure that I became bored (no wonder why!) and I put this UFO away. I never thought that "later" would become "roll it up and put it away for two decades".
Shame on me for procrastinating so long…..Many life events have happened in the past 20 years. Ironically, this Split Rail Fence quilt was made in the 1980s, when I had two sons, not three. One big life event was the birth of my third son, Jordan.
Plain and simple as it is, the Split Rail Fence pattern has a special meaning for me. Before my second son was born in 1984, I had taught my best friend how to piece and quilt. That was when she and I decided to make Split Rail Fence quilts. She finished hers….
Finishing this quilt brought back some other fond memories, too, and all of those memories surround this very simple quilt block design. In 1981, my mother and I convinced my grandmother Woodard to get involved with quiltmaking. She had made functional quilts years ago and since she had retired from teaching, she had leisure time. She began to hand piece several quilt tops for us. Most of the time, we would provide the fabrics and tell her how we wanted the blocks arranged. She was very happy to get back to piecing and quilting, and her letters were filled with her sewing and the quilting ladies she had become friends with when she was in her 70s and 80s.
My grandmother made a number of Split Rail Fence quilts for us, and they are still with us today. Some have been used and some are stored for future generations.
My Split Rail Fence quilt, a queen size quilt, was finished and given to my third son, Jordan. I have enjoyed revising my wonderful memories while I finished this quilt.
Since this UFO quilt was mostly made in the early 1980s, before Jordan was born, I'll be sure to tell him that his 'new' quilt is actually older than he is.
~~~~~~~~~~~~~~~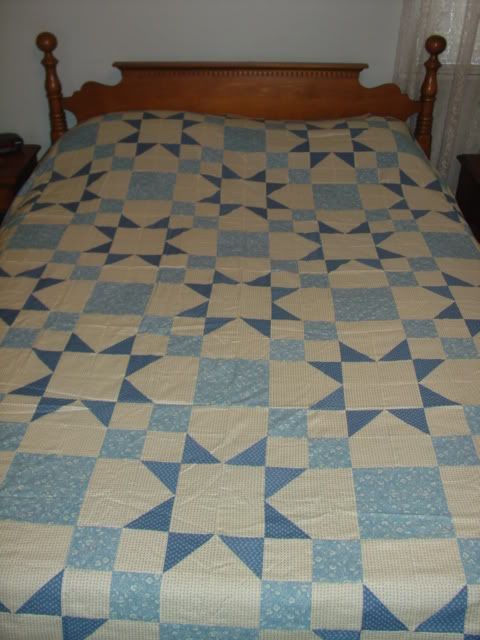 This queen sized quilt top, a very traditional Road To Oklahoma, was finished in 2007.